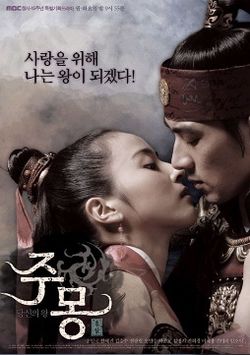 Jumong (Goguryeo Founder Dinasty)
Hae Yuri (2nd King og Goguryeo)
Hae Buru (Early Eastern Buyeo Founder)
Hae Geumwa (2nd E. Buyeo King) Also Jumong foster father)
Hae Daeso (3rd E. Buyeo King)
The creation of new nation "Goguryeo"
From 2006 to 2007, MBC aired an 81-episode drama, Jumong, to mark the network's anniversary. The series took elements from historical records and mythology, and retold the story in a more down-to-earth manner than found in the myths, recounting how Jumong, the spoiled stepchild of the Buyeo royal family, embarks on a journey of self-discovery, becoming a leading figure of Buyeo, but retreats from Buyeo after his step-brothers' betrayal. Relaunching the armed and militarily capable guerrilla fighters' force his biological father Hae Mo-su once headed, Jumong goes on a life mission to rescue and band together the refugees of the ancient Joseon peoples, leading the fight against the oppression of Imperial China, finally establishing himself as the king of the new nation Goguryeo.
In my opinion, every person who love historical Korean drama, must watch this epic drama at the beginning 
Show the Korean country foundation. The Battles are great, It is very long drama, so you will need a lot of time to proceed it.